Guide: Harvesting Mosquito Egg Rafts
If you live in an area that's not too cold or too dry there's a fair chance you'll be able to harvest mosquito egg rafts as a source of food for your aquarium fish. As a Betta splendens breeder I use use newly hatched mosquito larvae (wrigglers) as an alternative to hatching commericially available Artemia salina (brine shrimp). Mosquito egg rafts are free to harvest, requiring very little equipment and only a few minutes each day, and the wrigglers won't die in the tank. Artemia nauplii have a limited life span in a fresh water aqaurium and, once hatched, decrease in nutritive value rapidly as their yolk reserves are consumed
Many aquarists avoid using mosquito larvae as a live food because of concerns about introducing pathogens (particularly bacteria) to the tank. By harvesting egg rafts rather than the larvae the risks of transferring pathogens is mitigated since there is no need to transfer water from the harvest container to the aquarium and the larvae won't have an opportunity to feed on potentially harmfull detritus. If you don't need newly hatched larvae for feeding small fry you could also try growing on the larvae by raising them on nutritious food sources (eg old flake food), and possibly gut loading them prior to feeding.
Things you'll need
You will need some water containers, I use 2l to 4l water containers. I keep several of them going at once so that if one gets too rotten, or if mosquito larvae that escaped harvesting start pupating, I can tip it out and start again without having much impact on harvest rates.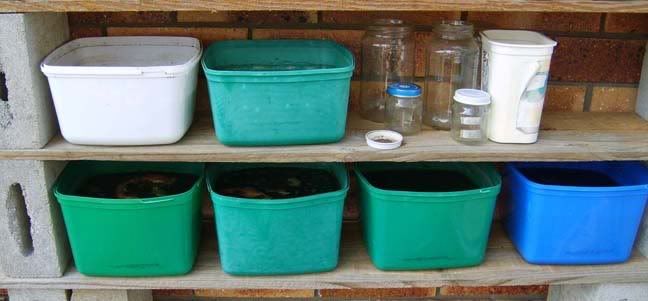 You'll also need a fairly protected spot. I keep mine on some makeshift shelving next to the house where it's mostly protected from the wind. When selecting a position keep in mind that once it's working properly it should smell rather unpleasant.
Cultivation and Harvesting Methods
Fill each container with water. Using old tank water works well since the water already contains a variety of microbes to help things along. Add some vegetable scraps (bread scraps and grass clippings also work). I've had most success using potato peels. Within a couple of weeks the whole thing should be fairly putrid and hopefully attracting female mosquitos to lay their eggs at night.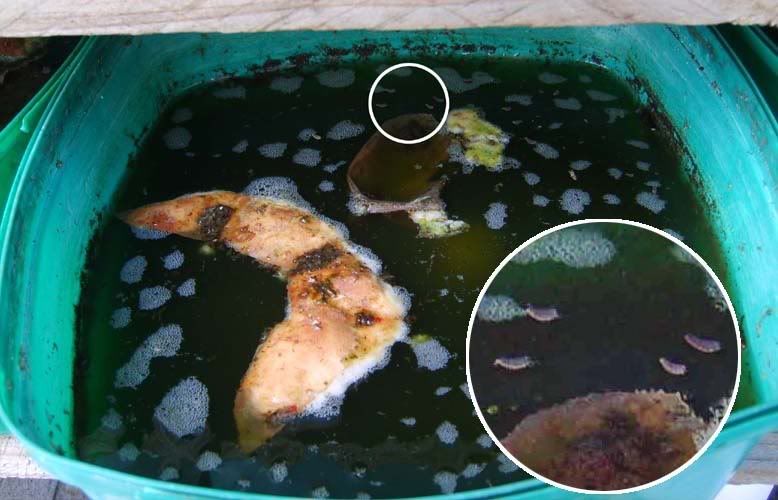 The cultivation containers are also usefull for creating greenwater, harvesting bloodworms (Chironomex sp. larvae), and culturing daphnia in small numbers. Culex spp. mosquitoes lay their eggs in rafts, however, you may have other types of mosquitoes laying eggs in your cultivation containers undetected and there may be some rafts that get missed because they can be quite small. If this happens and you find wrigglers growing in your containers, you may want to try to harvest them with a net or discard the water and refill the container to avoid adding to your local population of adult mosquitoes.
Each raft contains 50-200 eggs (or so I've read). They are a light yellow/cream colour when freshly laid and darken to grey in an hour or so. They are very hydrophobic, making them easy to scoop off the surface tension with a leaf or a finger.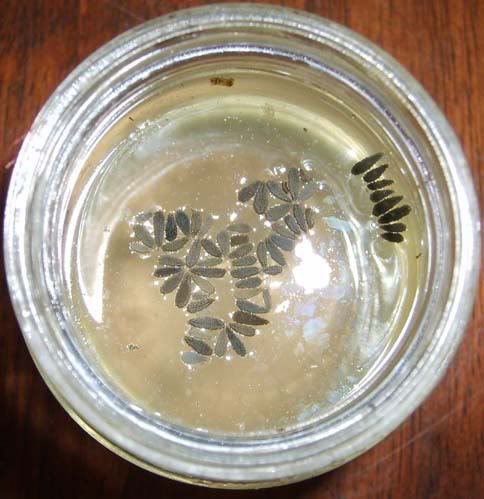 Once harvested you can float the egg rafts in the aquarium. This is especially useful for small fry because the larvae won't have had a chance to grow, and their release into the tank will be staggered as they won't all hatch at once. Alternatively, you can hatch them in a jar, allowing you to grow them on to the size you want for your fish/fry. When I'm growing them on I use a few jars so I can keep each days harvest separate. If you do chose to have a go at growing them on have a think about what to feed them. As detritivores the wrigglers will have a go at a variety of rotting foods. Bread is sufficient, however you may want to consider foods that will improve their nutritive value, stale or unwanted fish food is ideal. They don't need a lot of food so only feed them small quantities and be careful not to foul the water.
Don't be alarmed if it looks like you've got a layer of dead wrigglers in the growing jars. They are insects and must shed their shells in order to grow. It is not uncommon to get a reasonable number of shells accumulating and they're nothing to be concerned about.
More information
Forum threads
Still have more questions about cultivating mosquito eggs? Need more information? Swim on over to the forum!>